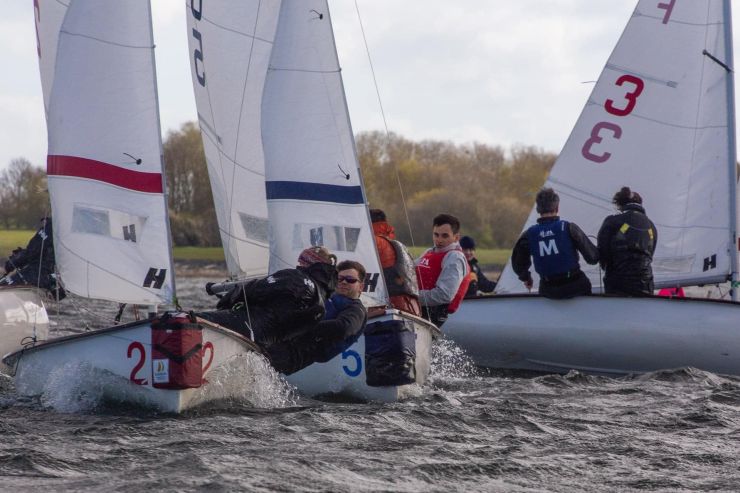 What is BUSA?
The British Universities Sailing Association (BUSA) is the representative body for university sailing in the U.K. BUSA is affiliated to the Royal Yachting Association (RYA) and works with the British Universities and Colleges Sport (BUCS) to deliver BUCS sailing championships.
BUSA is run by STUDENTS for STUDENTS.
BUSA aims to develop and support student sailing. It works to deliver sailing events for subscribing University Sailing Member Clubs (USCs) as well as supporting USCs in running their own events which can be found in the BUSA Calendar.
BUSA hold five Championships each year:
BUCS-BUSA Fleet Championships – usually held in November, any student may enter. There are usually four fleets – Fast Handicap, Firefly, Laser and Slow Handicap.
BUCS-BUSA Team Racing Championship – Teams of six sailors (three boats) are entered by USCs. Qualifiers and Playoffs are held in early February and March leading to Finals in March/ April.
RYA & BUSA Womens' Team Racing Nationals – Women's teams compete over a weekend, usually in March.
BUCS-BUSA Yachting Championship – University teams of eight sailors compete on charted yachts organised through BUSA, living on their yachts and participating in coaching and social programmes.
BUCS-BUSA Match Racing Championship – University teams compete over a long weekend in April. This event is provided by the RYA with coaching included.
BUSA also selects teams for occasional events. These include:
A bi-annual BUSA Tour in which BUSA and Inter Collegiate Sailing Association (US) teams compete across several sailing disciplines, alternately in the U.S. and U.K., generally in September
A BUSA team is usually invited to compete at the selected events throughout the year.
BUSA activities are run by the BUSA Committee which is made up of predominantly students who are elected by USC representatives at the Annual General Meeting. The Committee are always looking for enthusiastic people to help run BUSA, so if you'd like to get involved, see our Committee Page! Being a part of the BUSA Committee is fun, an opportunity to work with like-minded people and great for gaining vital skills for your CV!
BUSA History
BUSA was set up in the mid 1960s. The organisation was run by a small group of students from various universities. At the beginning this committee of students ran the annual University Team Racing Championships and selected the team for the bi-annual American and European tours.
In 1991, when the whole of University sport structure was changing, BUSA remained independent from both the then British University Sports Federation (BUSF) and University Athletic Union (UAU) and was provided with a full time secretary by the RYA, then funded by the Eric Twiname Trust. At this time sailing within Universities was still chronically under-funded and many clubs were struggling to run an effective club.
The RYA saw student sailing as an important development area and was beginning to support it more strongly and provide coaching in various areas. The 1993 Team Racing Championships were the first for which regional qualifiers were run. With several of the polytechnics becoming universities, keen to compete in sailing, the number of entries to the Championships had become unmanageable. A series of four regional qualifiers were established prior to the Finals, together with League weekends in Scotland.
During this period BUSA sailing continued to liaise with UAU and BUSF with an ever-improving relationship and by the time those two organisations merged to form the British University Sports Association (now British Universities and Colleges Sport - BUCS), BUSA sailing was well-recognised with a long established constitution and Championship structure.
BUSA has strong links with the below institutions